Mineral Exploration Symposium 2020 (virtual event)
The symposium aims to bring together the key innovators of the most advanced technologies and methods for mineral exploration in Europe, namely the representatives of European exploration companies (SMEs, industries) and professionals from academia and research institutes working on mineral exploration.
The event will focus on the recent and innovative developments in integrated exploration solutions focused on finding new deposits, benefitting from multidisciplinary and integrated approaches of advanced mineralogical, geochemical, geophysical, remote sensing, multi-dimension modelling, automation and robotisation techniques.
Special attention will be given to the role that the EU is playing in sustainable supply of raw materials, in particular through funding R&I projects that aim to develop breakthrough technologies for mineral exploration.
The Mineral Exploration Symposium is organised jointly by the Executive Agency for Small and Medium-sized enterprises (EASME) and the European Association of Geoscientistists and Engineers (EAGE). It is free admission but registration is mandatory.
Deadline to submit your abstracts is 28 June 2020. For registration click here.
EO4RM Online Webinar
Unlocking the potential of earth observation for the mining sector: practical applications
How can satellite based products and services help the mining sector create value?
The ESA funded project EO4RM has done research into possibilities for mining experts to benefit from new developments in the space industry. This webinar will present the results and demonstrate two examples of how satellite-based applications can be used for stockpile measurements and ground stability monitoring.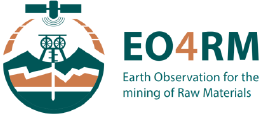 Furthermore, the EARSC (European Association of Remote SensingCompanies) portal will be presented, where service providers and mining industry experts can meet to explore collaborative opportunities.
Who should attend?
• Geologists and mining engineers in the industry
• Managers responsible for O&M of mining facilities
• Decision makers and experts from mining regulating agencies
• Researchers from academia and other institutions
Both webinars will have similar content on:
– Introduction on the EO4RM project and demonstration of the EARSC portal
– Demonstration of ground stability monitoring using InSAR for 2 cases in Australia and Turkey
– Demonstratino of stockpile measurements using radar and optical data for 2 cases in Namibia and Ireland
Event Timing:
Tuesday June 23rd, 2020 09:00 – 10:30 AM CEST
Thursday June 25th 2020 03:30 – 05:00 PM CEST
Access is free, prior registration is required at:
https://tinyurl.com/EarthObservation4RawMaterials
Online Event, link will follow after registration, 1 week before event.
Contact us at [email protected]
A description of the event and the full program are available here.